こんばんは〜〜〜皆様!(^0^)
告知です!
3月にDJ SCRATCHYの日本ツアーが決まりました!
40年以上のキャリアを誇る頑固一徹パンクDJ!
ひとりでも多くの人に聴いてもらいたいな〜。
というわけで、THE WILD ROVERの告知です★
SCRATCHYと私が出演します。
かっこいいバンドも沢山出るので、是非いらしてね!!
 ↓ ↓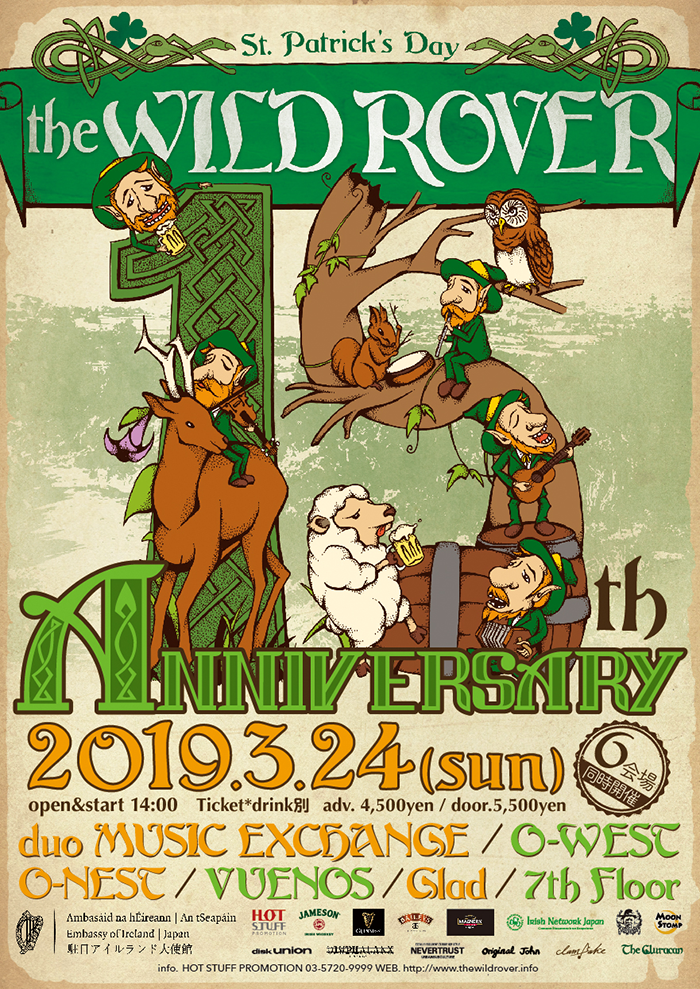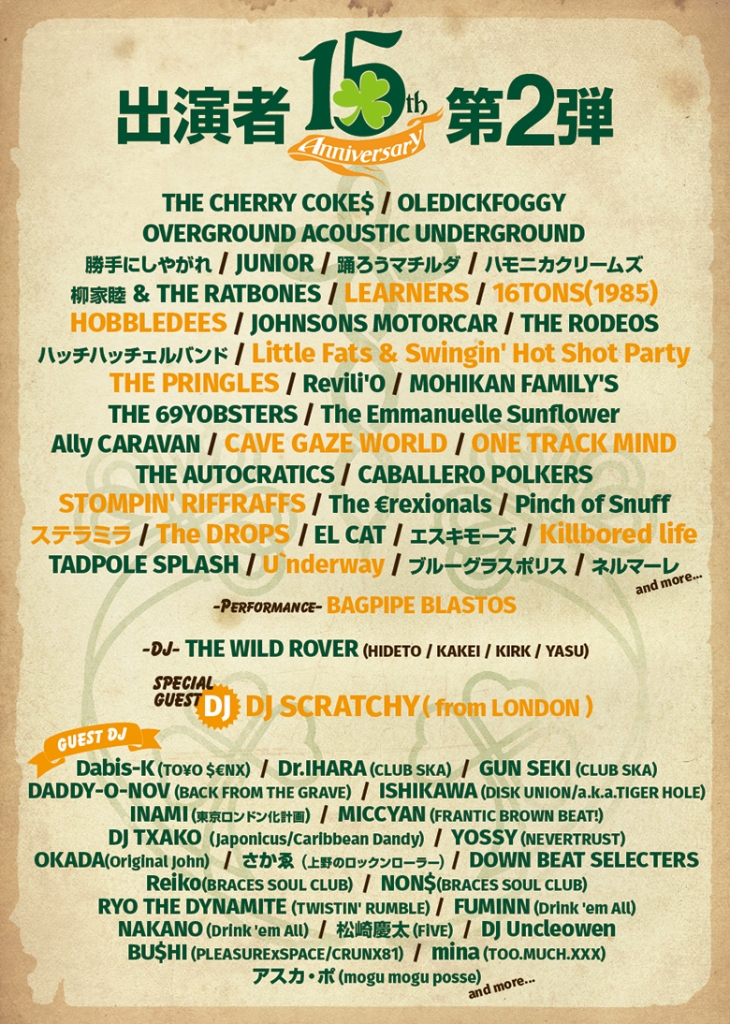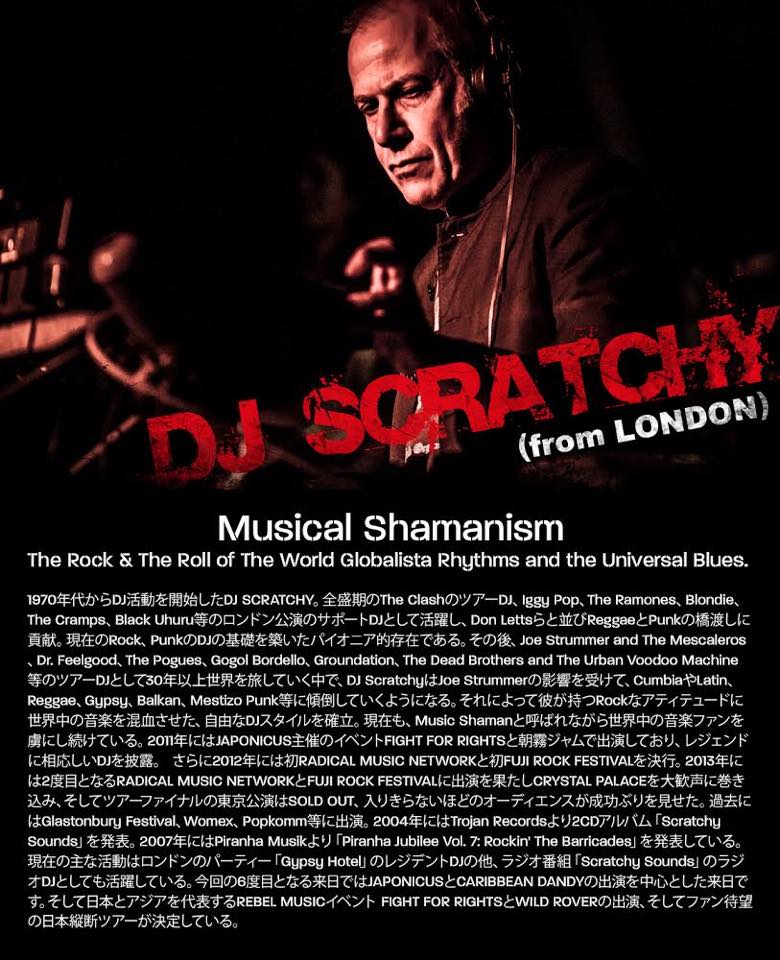 St.Patrick's Day THE WILD ROVER 15th Anniversary
3/24(sun)
duo MUSIC EXCHANGE / O-WEST / O-NEST / VUENOS / Glad / 7th Floor
6会場同時開催!
OPEN & START 14:00
Ticket adv.4500yen (Drink別) / door.5500yen (Drink別)
チケットぴあ Pコード: 140-244
ローソンチケット Lコード: 71177
e+ http://eplus.jp/
◆U-22割り
22歳以下の方は受付で学生証又は顔写真付き身分証明証提示して頂くと1000円(DRINK別)で入場いただけます。
リストバンド引換後はキャッシュバック対応出来ませんのでご注意下さい。
◆アイルランド国籍の方はパスポートか在留カードを受付で提示して頂くと1000円(DRINK別)で入場いただけます。
リストバンド引換後はキャッシュバック対応出来ませんのでご注意下さい。
We are offering a special discount for Irish Citizens! Entry is only ¥1000
when you present your Passport or Alien Registration Card as proof of Nationality at the door!
BAND
THE CHERRY COKE$
OLEDICKFOGGY
OVERGROUND ACOUSTIC UNDERGROUND
勝手にしやがれ
JUNIOR
踊ろうマチルダ
ハモニカクリームズ
柳家睦 & THE RATBONES
JOHNSONS MOTORCAR
THE RODEOS
ハッチハッチェルバンド
Revili'O
MOHIKAN FAMILY'S
THE 69YOBSTERS
The Emmanuelle Sunflower
Ally CARAVAN
THE AUTOCRATICS
CABALLERO POLKERS
The €rexionals
Pinch of Snuff
エスキモーズ
TADPOLE SPLASH
ブルーグラスポリス
ネルマーレ
...and more!
--NEW--
LEARNERS
16TONS(1985)
HOBBLEDEES
Little Fats & Swingin' Hot Shot Party
ONE TRACK MIND
THE PRINGLES
STOMPIN' RIFFRAFFS
ステラミラ
CAVE GAZE WORLD
The DROPS
EL CAT
U`nderway
Killbored life
--Performance--
BAGPIPE BLASTOS
--DJ--
THE WILD ROVER
(HIDETO / KAKEI / KIRK / YASU)
--SPECIAL GUEST DJ--
DJ SCRATCHY (from LONDON)
--GUEST DJ--
Dabis-K (TO¥O $€NX)
Dr.IHARA (CLUB SKA)
GUN SEKI (CLUB SKA)
DADDY-O-NOV(BACK FROM THE GRAVE)
ISHIKAWA (DISK UNION/a.k.a.TIGER HOLE)
INAMI (東京ロンドン化計画)
MICCYAN (FRANTIC BROWN BEAT!)
DJ TXAKO (Japonicus/Caribbean Dandy)
YOSSY (NEVERTRUST)
OKADA(Original John)
さかゑ (上野のロックンローラー)
DOWN BEAT SELECTERS
Reiko(BRACES SOUL CLUB)
NON$(BRACES SOUL CLUB)
RYO THE DYNAMITE (TWISTIN' RUMBLE)
FUMINN (Drink 'em All)
NAKANO (Drink 'em All)
松崎慶太 (FiVE)
DJ Uncleowen
BU$HI (PLEASURExSPACE/CRUNX81)
mina (TOO.MUCH.XXX)
アスカ・ポ(mogu mogu posse)
...and more!
注意事項
■各会場同時開催出入り自由。
■各会場同時開催の為全出演者を観る事出来ません。
■各会場収容人数を超えた場合入場制限が有ります。
■公演当日13時よりリストバンド受付にてチケットとリストバンドを交換します。
■リストバンド交換の際、ドリンク代¥500を頂きます。
■会場周辺の道路、施設等には一切溜まる事は出来ません。係員の誘導には従ってください。
■入場順はリストバンド引換え後、各会場ともに先着順になります。
■当日リストバンドの引換えが混雑する恐れがあります。お早めに引き換え下さい。
お問い合わせ 
HOT STUFF PROMOTION 03-5720-9999 http://thewildrover.info/