こんばんは!
お疲れ様ですっ。
来月のモンゴルツアーの追加公演が決まりました!
ウランバートルのLAVA CLUBという会場でDJをさせて頂きます。
初のモンゴルツアー!気合入れて行きます★
ところで、モンゴルの通貨単位ってトゥグルグって言うんですね。
Tに2本線が入った記号「₮ 」がちょっと「¥」に似ていますね。(^^)
Tour Dates:
2019.7.4 (thu) ULAAMBAATOR @ LAVA CLUB
DJ.TXAKO (Jap)・etc
Open/Start: 23:00 / Tickets: TBD 未定
Address: ICC Tower 19-20 FL, Jamiyan Gun Street-9, 1st County, Sukhbaatar Dist.Ulaanbaatar.
Info: Lava Club +976 7755 6060 / https://lava.mn/

2019.7.7 (sun) GACHUURT VILLAGE @ MONGOL SHILTGEEN HOTEL
   「PLAYTIME FESTIVAL 2019」
DJ.TXAKO (Jap)・THE WEDDING PRESENT (UK)・TITEM
BUYANAA・LEO37+SOSS (Taiwan)・REC ON・DEEZ
ELIS PAPRIKA & THE BLACK PILGRIM (Mexico)・RHYME (Australia)
Open/Start: 11:00 / Close: 25:00
Tickets:3 Day Ticket: 50.000₮ you can enter from the 1st day 2pm (7/6th)
2 Day Ticket: 40.000₮ you can enter from the 2nd day 8am (7/7th)
1 Day Ticket: 30.000₮ you can enter from the 3rd day 8am (7/8th)
Address: Bayanzurkh district, Khoroo 20, Gachuurt Village, Ulaanbaatar.
Info: Playtime Festival +976 7709 0307 / http://playtime.mn/en/

Info: JAPONICUS
http://www.japonicus.com
http://www.facebook.com/japonicus.tokyo

TXAKO (Official Websites)
http://www.facebook.com/djtxako
http://djtxako.jugem.jp/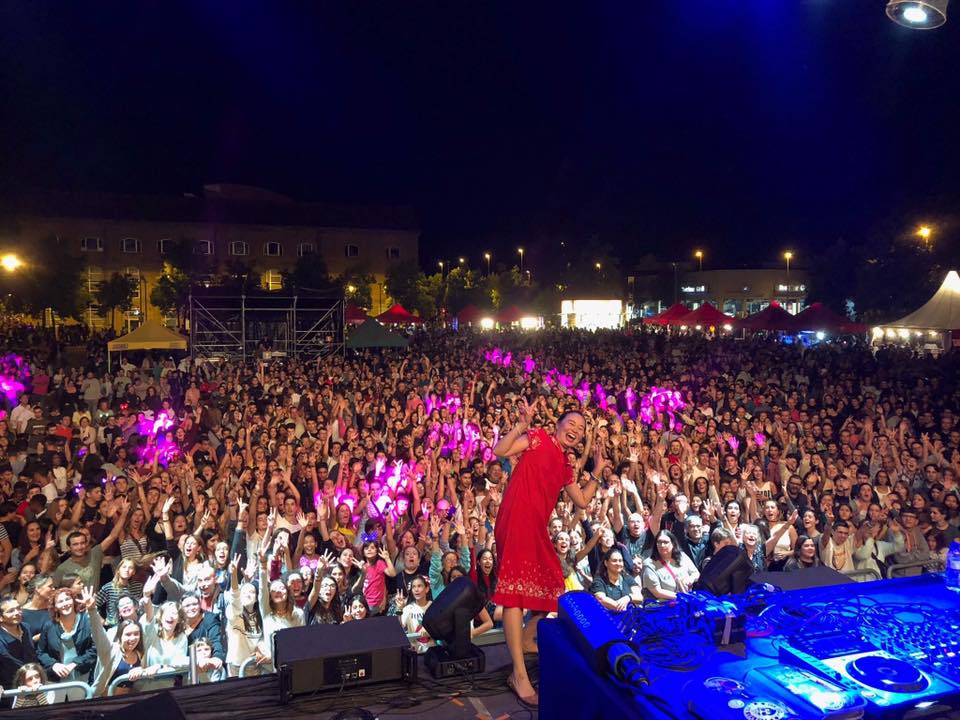 DJ TXAKO MONGOLIA TOUR 2019
「Global & Rebel Beats from Tokyo!」

Txako is the first female DJ of mestizo music in Asia and member of the legendary Japanese DJ's collective Caribbean Dandy. In addition she work for Japonicus, Japan's latin rock and rebel music promoter and has worked and been on tour around the world with multiple artists such as The Beat, Rico Rodriguez, Manu Chao, Flogging Molly, Fishbone, Angelo Moore and many others. After a long period performing in Tokyo's underground scene, Txako exploded onto an unsuspecting Tokyo music scene with its unique mixture of radical messages and massive doses of global beats (world music), patchanka, cumbia, reggae, latin ska and raw energy. Famous for her shows at well known festivals such as Fuji Rock Festival (Japan), Vive Latino (Mexico), Ariano Folk Music Festival (Italy), Radical Music Network Festival (Japan), Rototom Sunsplash (Spain), Asagiri Jam (Japan), Esperanzah World Music Festival (Catalonia), Stepping Stone Festival (South Korea), Urban Nomad Music Freakout (Taiwan), DMZ Peace Train Music Festival (Korea), Actual Festival (Spain), etc. TXAKO have been playing and performing with well known artists such as, Rico Rodriguez, The Beat, Manu Chao, Fishbone, Flogging Molly, Fermin Muguruza, Nathen Maxwell of Flogging Molly, Roy Ellis, Dj Scratchy, etc. In her wake, she left many fans hungry for more and influenced DJs and artists throughout Japan and the rest fo the world. TXAKO continue touring around Japan and the Globe. In the meantime, kick up the volume, stand back and get ready for the full frontal assault known as ...DJ TXAKO!!